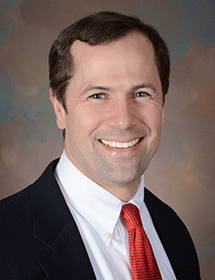 Thomas P. Loumeau, MD, a board certified orthopaedic spine surgeon, has joined the medical staff of the Bone & Joint Institute of South Georgia.  Dr. Loumeau completed his spine surgery fellowship at one of the top spine surgery centers in the nation – OrthoCarolina, in Charlotte, NC. He worked alongside leading spine surgeons performing complex procedures. 
Dr. Loumeau began his medical career after graduating from University of Notre Dame with honors as an English Literature major. He attended Trinity College of Medicine in Dublin, Ireland.  He attended the University of Illinois neurosurgery residency program in Peoria, Illinois, followed by the University of Florida orthopedic surgery residency program in Jacksonville, Florida. Dr. Loumeau then did his spine surgery fellowship at OtrhoCarolina.
"We are thrilled to have Dr. Loumeau join our surgical team.  His spine experience makes him a great asset to both our practice and our community," said Lex Kenerly, MD, Orthopaedic Surgeon.  "His innovative procedures will greatly help benefit patients with back and neck issues."
"Dr. Loumeau's expertise is a great addition to our practice adding expertise to further advance the orthopaedic services of the Bone & Joint Institute of South Georgia," said Richard L. Clark, Cheif Executive Officer.  "We are honored to welcome Dr. Loumeau to our family, he provides a great blend of advanced clinical education and knowledge with a strong passion for providing community-based care."
For more information, or to make an appointment, call toll free (866) 806-0800.