Brian T. Grisez, MD
Dr. Brian T. Grisez, an orthopaedic surgeon, specializes in total joint replacements (hip & knee) and revisions.  He performs total hip replacements utilizing the anterior approach for quicker patient recovery and less pain.
---
EDUCATION
Undergraduate
University of Maryland, Baltimore County
Medical School
West Virginia University Medical School
Orthopaedic Residency
Adult Reconstruction Fellowship
Holy Cross Orthopedic Institute – Ft. Lauderdale, FL
CERTIFICATIONS: Member of the American Academy of Orthopaedic Surgeons • Member of the West Virginia Orthopaedic Society
---
Biography
Dr. Brian Grisez grew up in southern Maryland, not far from Washington, DC. He attended the University of Maryland, Baltimore County, for undergraduate, and went on to obtain his medical degree from West Virginia University. While in medical school, he received the D. Ewell Hendricks, MD, Surgical Award, which is presented to the eastern division medical student who demonstrates outstanding achievement in surgical skills and a commitment of community service. 
Dr. Grisez knew going into medical school that he wanted to be a surgeon. Orthopaedics became his choice because in that specialty very often physicians can provide a very permanent solution for a patient's disease.  Very few surgeries give patients such an immediate improvement in their quality of life. After medical school, he completed his Orthopaedic Surgery Residency at West Virginia University and went on to complete an Adult Reconstruction Fellowship at Holy Cross Orthopaedic Institute in Ft. Lauderdale, FL..
Dr. Grisez is a member of the North American Spine Society, Fellow of the American Academy of Orthopaedic Surgeons and a Member of the West Virginia Orthopaedic Society
He is a valuable addition to the Bone & Joint Institute of South Georgia with experience in all Orthopaedic areas. He specializes in Total Knee Replacements, Partial Knee Replacements, Total Hip Replacements, Revision Surgery, and much more.
MORE ABOUT DR. GRISEZ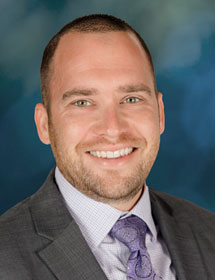 Q – Why did you choose medicine?
A – My father dealt with chronic depression for many years and it progressed to a point that nearly consumed him. I felt for much of my adolescent and teenage life that dad was "home" but in many aspects he was "missing." He fortunately was able to find help soon after I finished high school. With time and a lot of effort he was able to retake control of his life and be dad again. Although his recovery was driven from within himself, it was not possible without the skilled care and support of his medical team. The only way I could ever show my appreciation for having my dad back was to go into medicine myself.
Q – What is your approach/philosophy to patient care?
A – It is somewhat cliché, but I prefer a holistic approach to patient care. Surgeons aren't known for being the most personable, spending time and talking, or listening to their patients.  Everyone has a story and just sitting and listening to that, I get a much better perspective of their experience. I let our encounter be a discussion and conversation more than a formal meeting.
Q – What made you choose the Bone & Joint Institute of South Georgia?
A – I grew up in the mid-Atlantic not far from Washington D.C. and did most of my training in West Virginia. I've always been partial to the warm weather and being near the beach. My other half and I are not big metropolitan people and both  grew up in farming communities and small towns. We absolutely fell in love with the town and everyone here at the practice! It felt like home.
---
CALL TODAY FOR ALL YOUR ORTHOPAEDIC NEEDS.