BJISG Once Again Recognized as a Bulldog 100 Business
February 3, 2016 – JESUP, GA – The Bone & Joint Institute of South Georgia and founder and co-owner, Dr. J. Lex Kenerly, were recognized by the University of Georgia Alumni Association as one of the top 100 fastest-growing businesses owned or operated by UGA alumni for the second year in a row. The announcement was made at the 7th annual Bulldog 100 Celebration on January 30th held in Atlanta.

The Bone & Joint Institute was established in Jesup in 2010 by Kenerly, an Orthopaedic Surgeon and 1978 UGA graduate. The practice specializes in surgical and nonsurgical treatments of sports-related and traumatic injuries of the musculoskeletal system, and serves 13 counties in South Georgia from four locations.
"It's an honor to be included in the 2016 class of the Bulldog 100. To have Bone & Joint recognized for its strengths in business from an acclaimed institution like UGA two years in a row is very rewarding," said Kenerly.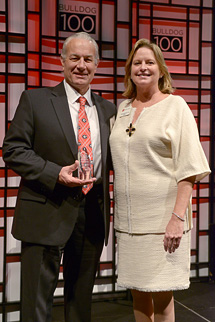 "My partner and friend, Dr. J. Matthew Valosen, and I are honored to have been among the select few chosen to receive this highly sought-after accolade. This achievement wouldn't have been possible without the support of Dr. Amber Aragon, Scott Rowell, PA-C, Stephen Hutcheson, PA-C, and Kyle Deuter, PA-C. Dr. Valosen and I owe the success of our growing practice to their dedication and hard work."
Since its opening, the Bone & Joint Institute has grown to accommodate the needs of patients in the communities it serves. The practice has four locations, employs six healthcare providers and a staff of over 50. The Bone & Joint Institute offers comprehensive orthopaedic care and features the Joint Commission accredited Surgery Center in Jesup, digital surgical suites designed exclusively for orthopaedic surgeries, on-site x-ray services, and open MRIs a the Jesup and Waycross offices.
The 2016 Bulldog 100 Rankings were narrowed down from more than 350 nationwide nominations. To be considered for the prestigious list, organizations must be in business for a minimum of five years, have experienced revenues of more than $100,000, and be owned and operated by a UGA graduate. The list acknowledges companies of all sizes, focusing on a three year compounded annual growth rate.
The 2016 class, consisting of 153 alumni from 100 businesses, was inducted at the 7th annual Bulldog 100 Celebration at the Atlanta Marriott Marquis. The evening began with a roundtable discussion, followed by a reception and dinner. The keynote speaker was Jeff Dunn, 1980 UGA graduate, and President and CEO of C-Fresh, a division of Campbell Soup Company.
"The University of Georgia prides itself on producing high-caliber business leaders who are helping to change and improve the world around them," said Ruth Bartlett, president of the UGA Alumni Association. "The UGA alumni who are founding and leading the Bulldog 100 businesses are helping their local communities' economies, and we are thrilled to recognize them each year."
The Bone & Joint Institute of South Georgia and Doctors J. Lex Kenerly, J. Matthew Valosen, and Amber Aragon provide comprehensive orthopaedic care. BJI is based in Jesup and has satellite offices in Baxley, Hinesville, and Waycross.