Meet Dave Vasilatos! Just when he thought the pain had won, he had his life restored!
Lives Can Be Restored… Pain Can Be Controlled…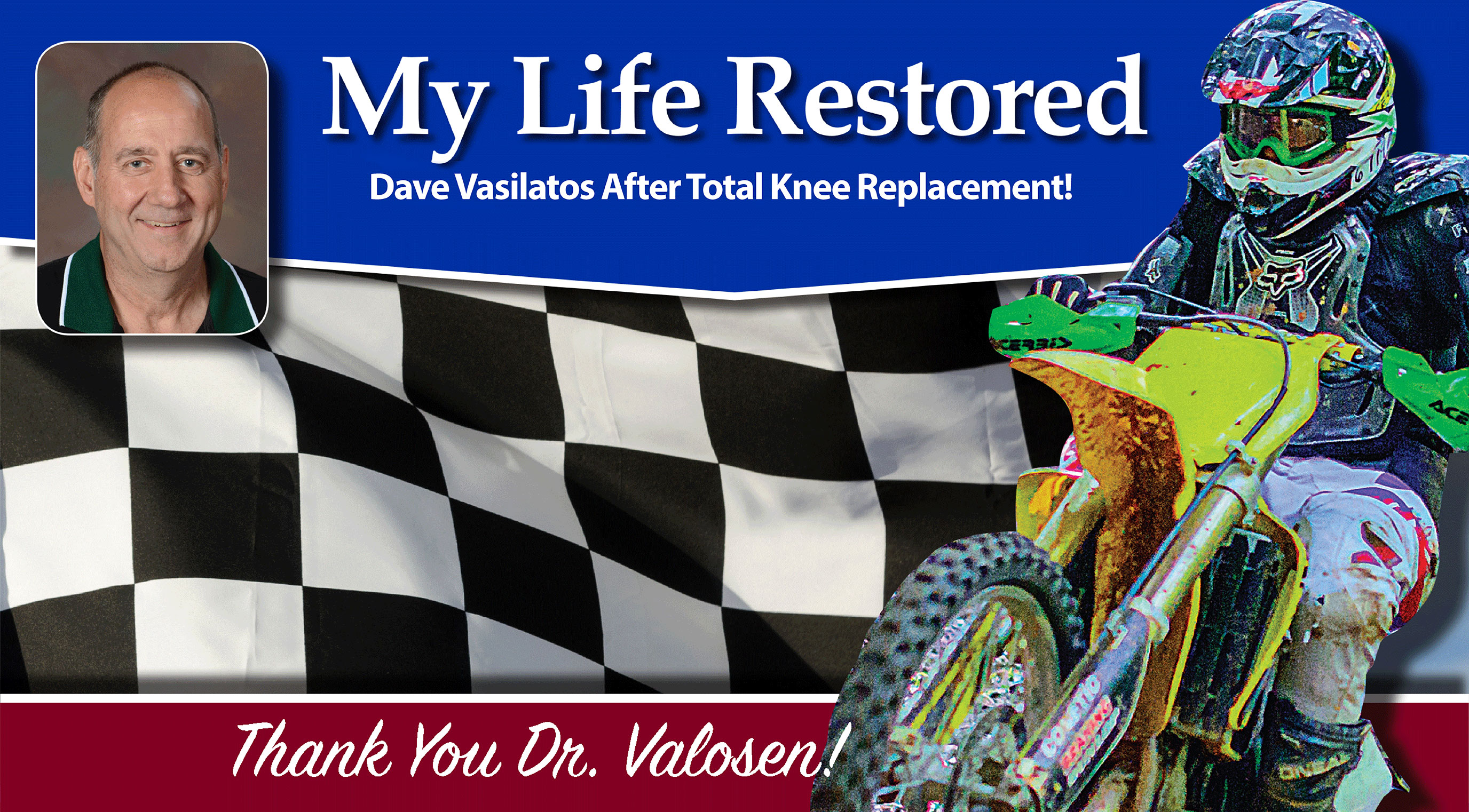 For all of his adult life, Dave Vasilatos has enjoyed an extremely active and competitive lifestyle, participating in extreme sports such as motorcycle racing, car racing, water skiing, skydiving and more. Due to a knee injury years ago, he was forced to give up what he loved most – motorcycle racing.
He continued to be as active as possible but nothing could replace the passion that he felt for motorcycle racing. "While riding motorcycles, your knees act as shock absorbers and the pain was just too intense… I had come to the conclusion that one of my passions in life was simply no longer an option," Vasilatos explained.
Several friends encouraged Dave and recommended Dr. Matthew Valosen of the Bone and Joint Institute of South Georgia. At first he was hesitant to try another doctor but Dave knew the pain wasn't getting any better. He decided to go to the Bone & Joint Institute of South Georgia. Mr. Vasilatos was very impressed that Dr. Valosen took the time to listen to him and discuss his options. It was decided a total knee replacement would be the best for him.
The surgery was a success! Only one year after surgery and physical therapy, Dave was able to start riding motorcycles again competitively with his youngest son. Recently, they received season trophies for their victories in the Southern Off-Road Championship Series!
"THANK YOU DR. VALOSEN AND THE ENTIRE STAFF AT THE BONE & JOINT INSTITUTE OF SOUTH GEORGIA! YOU ALL HAVE GIVEN ME BACK ONE OF THE GREATEST LOVES IN MY LIFE!"- Dave Vasilatos
The Bone & Joint Institute of South Georgia is here to help you and your family! We offer clinic locations in Jesup, Waycross, Hinesville and Baxley for your convenience. For an appointment, call toll free (866) 806-0800 or (912) 427-0800.
---
We appreciate all feedback from our patients' experiences at the Bone and Joint Institute of South Georgia. Take a moment and fill out the form to the right. We would love to hear your success story!
Submit Your Story!
[breezingforms name="Testimonials"]