W. Scott Rowell, P.A.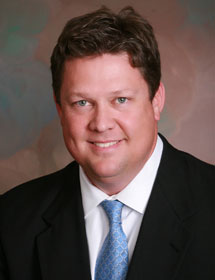 Physician Assistant 
For more than a decade, Physician Assistant Scott Rowell has been a tremendous asset to the Bone & Joint Institute of South Georgia. His warm bedside manner and personality have endeared Scott to the hundreds of patients with whom he has served at The Bone and Joint Institute.
He is a graduate of Mercer University and the Medical College of Georgia where he completed his Physician Assistant program in 1998. He is a Fellow of the American Academy of Physician Assistants and a member of the Georgia Association of Physician Assistants.
For nearly 20 years, he has worked as Dr. Kenerly's PA and has gained extensive expertise in diagnosing and treating a wide range of orthopaedic conditions. From fracture management, arthritis of the hip, knee and shoulder, sports injuries and work-related injuries, Scott has proven to be an excellent and competent Orthopaedic Physician's Assistant.
"He is an excellent clinician and I have seen first-hand how our patients have greatly benefitted from his knowledge of the musculoskeletal system as well as his kind and compassionate manner. I am blessed to have Scott as a part of my practice," says Dr. Kenerly.