Thomas P. Loumeau, M.D.
Orthopaedic Spine Surgeon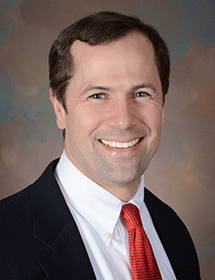 Dr. Loumeau, board certified in Orthopaedic Spine Surgery, began his medical career after graduating from the University of Notre Dame with honors as an English Literature major and went on to attend the Trinity College of Medicine in Dublin, Ireland.  He then studied at the University of Illinois neurosurgery residency program in Peoria, Illinois, followed by the University of Florida orthopaedic surgery residency program in Jacksonville, Florida. He completed his spine surgery fellowship at one of the top spine surgery centers in the nation – OrthoCarolina, in Charlotte, NC. Dr. Loumeau worked alongside leading spine surgeons performing complex procedures. 
Dr. Loumeau is internationally recognized, attending many conferences and presenting innovative research from Canada to Spain. He has recently been published in the European Journal of Spine Surgery and volunteered his services in Haiti.
Dr. Loumeau's vast knowledge and experience makes him a valuable asset to BJISG and our community.  Dr. Loumeau works with a wide variety of spinal conditions with a special interest in minimally-invasive procedures, deformity correction, spinal decompression and fusion, and motion preservation.